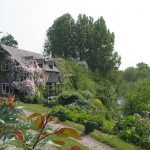 Take the A 438 out of Hereford towards Brecon and carry straight on. After about 5 miles you will see the Weir Nursing Home and garden on your left. Another mile and you will pass the Nelson garage on your right, then shortly after take a left signposted to Byford. Drive through the village as the map below shows, then you will find the track leading to The Forge.
WHERE TO STAY
A selection of beautiful and comfortable places to stay while attending a Plant Dyed Wool workshop.
Kate Bliss
Byford
5 minutes walk from us.
01981 590313
kate@katebliss.com
Pru Cartwright
Brobury House, Bredwardine
Brobury House is a 15 minute drive from ours.
Portway Inn
Staunton on Wye
10 minutes drive from us.